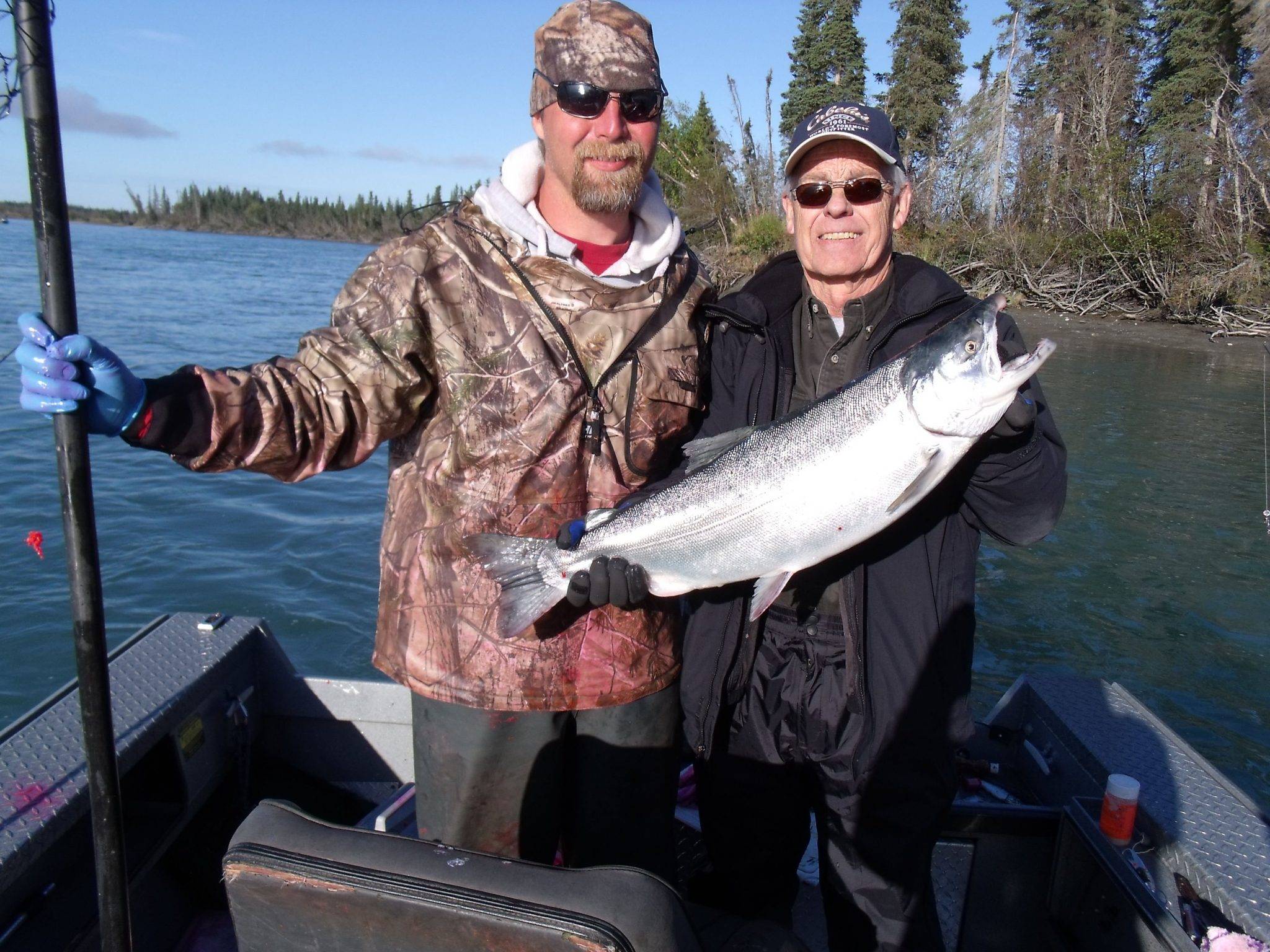 26 Mar

Frequently Asked Questions

Posted at 03:54h

in

Kenai
Some information to get you started!
We want to make sure you have the best trip possible so we put some information below to help.
What do I need to bring?
Bring a camera of course! Sunglasses, rain gear, warm layered clothing, sun block, a hat, and lots of film. You will also need to purchase an Alaska Fishing License. And if you are fishing for kings you will also need to purchase a King Salmon Stamp. 
Buy your fishing license now!  You can view prices and purchase these online at
Alaska Fish and Game Fishing License

What about fish processing?
Your Kenai River fishing guides will fillet your catch for you.  50 lbs of fish processing is included with your fishing package. Additional fish processing and day trips can be done for approximately $1.30 per pound.
Will we see wildlife?
Yes! You have the opportunity to see bald eagles, moose, caribou, beavers, otters, and, of course, fish! You may also see bears on one of our fly-out trips.
How are the accommodations?
You will not be tent camping. The lodging we offer is first class, clean and comfortable. Each cabin has four full beds and is fully equipped with a fully stocked kitchen, an open style dining/living area, and a spacious bathroom.
Do we need to bring any fishing gear?
No, all of our trips are fully guided and outfitted. You can bring your own fly gear for the Rainbow Trout Trips if you want, however, it is not necessary.  We provide fly gear and spin casting gear for the Trout trips.  And top quality bait casting gear for your salmon trips.
What about meals?
There are supermarkets and restaurants in town. Most guests eat a light breakfast, bring a cooler of food on the boats, and then eat at local restaurants for dinner. Just ask us for our recommendations!  Of course is you are staying at our cabin we have a fully equipped kitchen and backyard BBQ for your use.
What about bag limits?
The king salmon bag limit is 1 per day. Silver salmon is 2 per day in August and 3 per day in September, October and November. Halibut is 2 per day. Rainbow trout are catch and release only.  The red salmon limit starts at 3 per day and can change depending on the run.
What about mosquito's? Will the Alaskan variety really carry you away?
On the Kenai peninsula, the numbers vary from year to year and with a little bug repellent you will be fine. There are locations in Alaska where a head net is helpful.  So just double check with your guide to find out what exactly you will need.
Is there really 24 hour daylight?
Yes, Resident Alaskans live for the summer months of continuous daylight. It will be weird for people who are accustom to the sun going down, but don't worry, most lodging will have 'black out' shades for your convenience.

What to do when you are not fishing…
Wildlife watching – eagles, moose, beluga whales, bear viewing, caribou

Clam Digging at Clam Gulch, just 20 miles from Soldotna, all you need is a clam tide, a shovel, some rubber boots and a fishing license.

Fly out bear viewing and sight seeing, view glaciers from above

Kenai Fjords Tours

Exit Glacier Tours

Hiking

Seward Sealife Center

Kayaking/Canoeing

Kenai Visitors and Cultural Center
Saturday Market in Kenai

Rafting the Kenai River

Gift shops and Museums

Homer: Kachemak Bay, Halibut Cove, Restaurants – boat only accessibility
Beach combing
Do you have a question that is not on our list?  Well email us and we will answer it and put it on our website! Email us at Ericloomisfishingak@gmail.com